WELCOME TO

www.EdibleBusinessCards.com
Or, how I learned to stop worrying and love the Internet Bubble...
Edible Business Cards is not just another e-business. Our customers are our family. Like most families, we will sometimes disagree, maybe quarrel over small things, perhaps even resort to physical violence or ritual assassination of beloved pets. All just part of the family-style closeness that we try to foster here.

So welcome to the EBC customer family, where, thanks to our robo-cookie client-crawler technology, you are even now being logged into our database, not just as another faceless consumer, but rather as a unique individual, with your own lifestyle needs and preferences. Remember our motto:
At Edible Business Cards, we know where you live!
Products Spiritual Books Music
Now with our patented ZeroClick® electronic shopping cart technology!
---
---
New!
Lickable iMacs!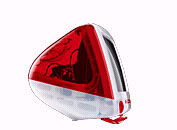 Offered exclusively by Edible Business Cards.
Comes in all your favourite flavors: blueberry, strawberry, lime, licorice and vanilla.
Great for office parties!!!
Now, with our software-only tongulator interface (patent pending), you can try these delicious flavors from your very own web browser (compatible with all java-enabled browsers).

This really works. So go ahead, don't be shy. Lick your screen. Nobody's watching...
more to come soon!
More to come soon!